Success often hinges on the development of "soft skills". These are the personal attributes that help an individual interact with others harmoniously and effectively. For autistic young adults, these are often the most difficult skills to develop.
Many of my clients come to me seeking help understanding the others they interact with most often whether they are family members, classmates, or co-workers.
Others find me because they are seeking meaningful employment but are concerned about their lack of work experience.
Still others are looking to explore options for their future careers and are looking for guidance on how best to capitalize on their special interests and talents.
Of course, the very best way to do any of this work is through real-life interactions in a safe and supportive environment. It might surprise you to learn that one easily accessible opportunity can be that be this type environment for ALL the types of clients and challenges I've described. It's volunteering.
Let's talk about how:
Volunteering helps build interpersonal and time management skills.  A high school client of mine volunteered at a food pantry to satisfy a high school requirement to volunteer the hours before graduation. While initially annoyed he'd have to give up several weekends to fulfill the requirement, the client changed his tune when he realized he could practice the conversational skills we were working on with the other volunteers during his shift. He was also required to show up on-time to perform certain tasks before the pantry opened to the public. He was able to use the opportunity to work on getting up on his own.
Volunteering provides opportunities to explore interests, channel passions, and learn more about career fields. I have a client who loves animals and was considering a career as a veterinary technician. We were able to find her a position volunteering at a local animal shelter. There she got to spend time with her favorite furry friends, which she found extremely rewarding. She was so relaxed around the animals that she felt completely comfortable picking the brain of the veterinarian who provided care at the shelter about the role vet techs played at the vet's office. It gave her great insights she later used to make career decisions.
Volunteering is a great resume builder and networking opportunity. A former client came to me because they had been unable to find meaningful work. One of their biggest issues was lack of employment experience. Their resume was pretty sparse, and they did not have many people who could serve as job references. Since they had been out of work for some time, their employment skills were a bit rusty. I suggested they volunteer to help fill their time, sharpen their skills, and build both their professional network and resume. In many cases, the only difference between being a volunteer and being an employee is money! My client's volunteer position required many of the same skills and abilities a potential employer looks for. My client was such a hard-working and reliable volunteer, their supervisor was happy to serve as an employment reference. The supervisor also helped my client write up their volunteer experience on their resume to stress the employment skills they developed.
Since all of these benefits can come from one volunteer experience, I consider volunteering the ultimate jumping off point.
Here's how it can look depending on your student's life stage: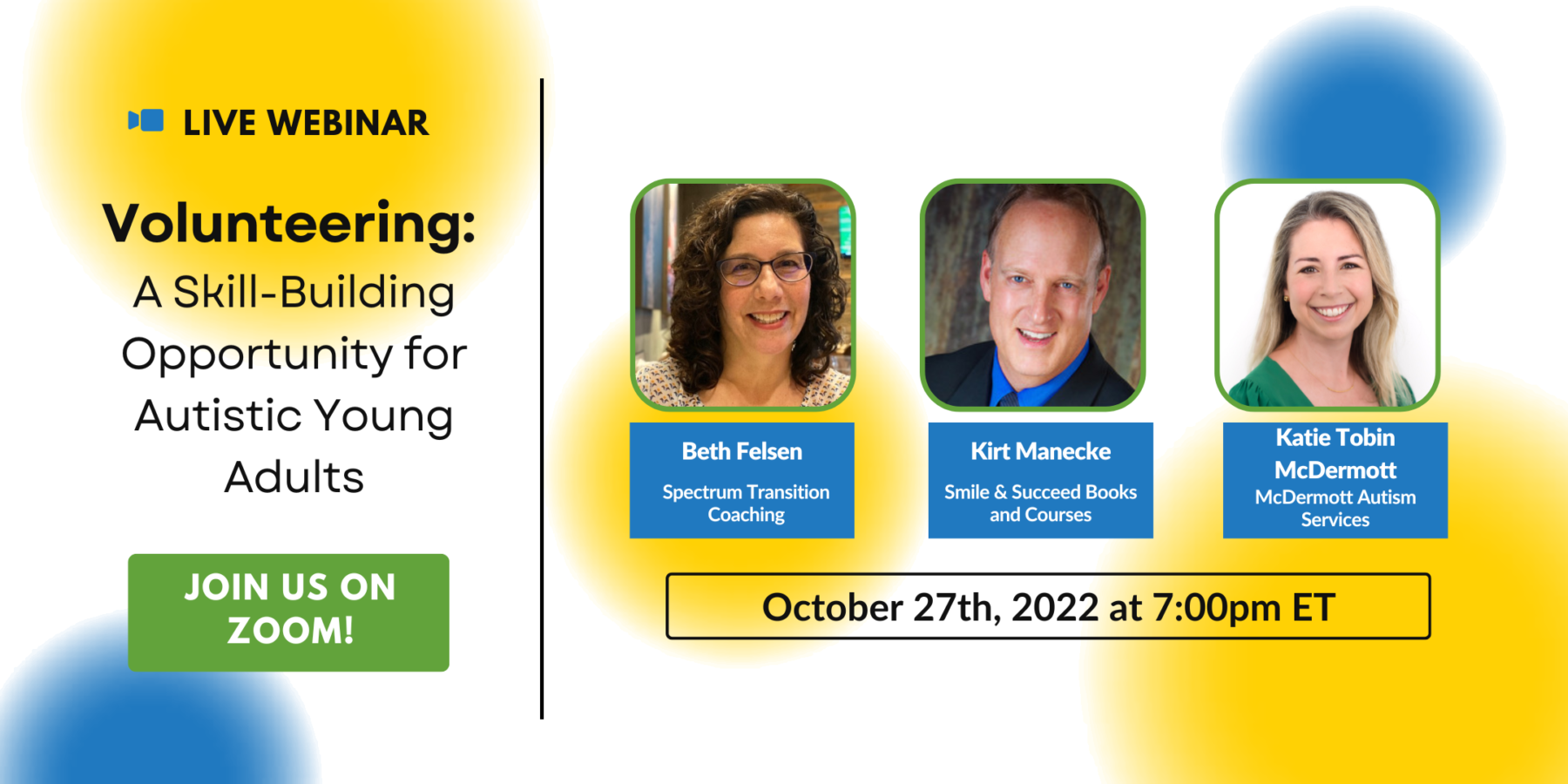 Volunteering for autistic high school students
In high school, think of volunteering as free exposure to potential majors and interests.  Instead of signing your student up for expensive camps or relying on online assessments, volunteering is an excellent way to take a 'test drive' of majors or careers.
If your teenager is passionate about the environment, encourage them to volunteer with a local conservation group or find a nature preserve to volunteer their time.
If they are interested a business major, explore your local Chamber of Commerce or Small Business Administration chapter.
If they are passionate about politics, encourage them to sign up for a local voter registration drive or support a campaign.
Or if your teen is considering a medical field in college, encourage them to volunteer at a local hospital or clinic to see what a healthcare job looks like in reality.
For any volunteer experiences, work with your teenager to manage their time and communication. Encourage them to lead conversations with the volunteer director about their schedule and accommodations. Ask them about their fellow volunteers to see if there is an opportunity for additional social engagement. And encourage them to share what they are learning about their experience with these questions:
How did this differ from your expectations?
What have you learned about this field? Does it make you more or less excited to spend more time in this area?
Have you experienced anything you can apply to school or relationships?
Volunteering for autistic college students
Colleges are ripe with volunteering opportunities – from participating in research studies to tabling for local causes and events. Each university often has a volunteer fair where students can get information about many opportunities at one time and decide which is best for their schedule and interests. Encourage your student to find out when this fair is and make it a priority to attend – it often happens during the busy first weeks of school so it's easy to get lost in the chaos.
In college, volunteering is an excellent way to explore career paths. You may not need a full summer internship to find out that a certain role isn't a good fit – freeing up that summer to explore a different, better fit job. Volunteer opportunities can also be a great source of potential friends because you know that everyone there has at least one common interest – the cause or organization for which you are volunteering!
Autistic college students can work with the disability office staff as well as their professors to find out about volunteer opportunities in their field of study.
Not all of these roles are publicized. If there is a specific professor or topic that you student is passionate about, encourage them to attend office hours and suggest a few volunteer projects. Most professors are eager to work with college students who show initiative and can help them with a project that has been pushed to the back burner. The experience and connections you make as a volunteer can also help you find paid internships and employment later on.
When you talk with your autistic college student, help them process their volunteer experience by asking:
What have you learned about yourself through this experience?
What other interests has this sparked?
How would you feel about this role being your full-time job?
Volunteering for autistic adults  
Volunteering can be especially useful for autistic adults. Finding the right job fit is incredibly important for an autistic adults to thrive in the workplace.
The process of finding, applying and interviewing for a job can be very stressful. One smart way to explore interests and get your foot in the door is to focus on volunteering rather than employment. Of course, there is a trade off with compensation, but this option may be worth exploring if it is financially feasible for your family.
For autistic adults, volunteering is a lower-pressure way to explore an interest or career path. And since many non-profits are hungry for willing volunteers, it's usually a quicker process to get started compared to finding a full-time job.
Volunteering can also lead to gainful employment. Your autistic adult may make meaningful connections with the leaders of the non-profit who notice their investment of time and energy. Or they may find out about opportunities through fellow volunteers.
Lastly, volunteer supervisors can make excellent references for future job applications. After 3+ months of volunteering, help your son or daughter have a conversation with their supervisor to get their permission to list them as a reference. This can come in handy for years as they fill out job applications – just make sure they continue to engage and leave on good terms when the time comes.
Encourage them to make the most of the volunteer experience by asking these questions:
It seems like you're really enjoying this. How could we make it a bigger part of your life?
How do you feel about asking if there are any paid opportunities available?
Let's practice a conversation with your supervisor about being a reference. Would tonight be a good time?
No matter which stage your student is in, take the time to make a volunteering plan of action. Find a few organizations, send a few messages and attend local events. The benefits of volunteer experience are long lasting and can help your student make smarter decisions in college, career and life.