The Ultimate Guide for Parents of Autistic High School Students
By Spectrum Transition Coaching
Helping families and young adults navigate life with autism
Parenting during the high school years is an adventure. From navigating friendship dynamics to staying on top of classes to thinking about the future, it's a major transition for your family. For autistic high school students, this time can be especially challenging.
Autistic high school students are discovering who they are and what they want to do in the world. At the same time, they are finding their own identities apart from their parents and striving for acceptance from their peers. With all of these major changes happening, it's no wonder that the high school years can be really tough!
If you're a parent of an autistic high schooler, you're in the right place. We've compiled the best resources, blog posts and guides to help your family navigate this phase.
Who We Are and What's Inside
Spectrum Transition Coaching prepares autistic young adults for success in college, career, and life. With a variety of coaching packages to fit your needs and timeline, we work closely with families to help them navigate life's transitions. From getting ready for college to building independence or finding a good fit job, Spectrum Transition Coaching supports autism families just like yours. 
We've read piles of books on autism and parenting to narrow down the most useful for you.
A useful tool so you can start having productive and meaningful conversations with your autistic teen.
Useful tools as your family starts to think about what comes next after high school graduation.
When my children were preparing to go from high school to college, I was shocked at just how much their lives were about to change. High school is structured with very little free time. Comparatively, college has ample free time and assumes students know how to balance and plan wisely.
"High school is an important stepping stone to adulthood for autistic teens. Increasing independence during these years, with family support nearby, is so important."
– Coach Beth
Helpful blog posts for parents of high school students
There's no 'correct' way to parent a child with autism. We all have to figure out what works for our family and our unique student. But we don't have to do it alone. The blog is a place where we share favorite resources, trusted experts in this space and reflections on parenting autistic students and young adults. Subscribe here.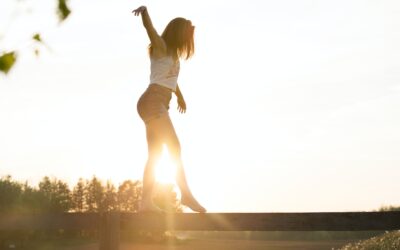 Balancing Both Sides of Autism If you haven't seen it yet, one of the prominent autism organizations, AANE, has a new look and new name. Formerly the Asperger/Autism Network, AANE is now the the Association for Autism and Neurodiversity. Why does this matter? This...
read more
As your autistic student grows up and becomes more independent, you'll both need to find your footing in these new roles. Your student is no longer a kindergartener who needs you to help them cross the street safely. Nor are they a full-grown adult who can pay their own bills on time. This phase is in the 'messy middle' where you'll both need to figure out what works for your family.
There is no magic formula, but there is one essential ingredient: open conversation. You can't read each others' minds so open and honest conversation is key between parents and autistic high school students. Whether you share your perspectives over pizza, during a walk, or while you have a captive audience in the car, make sure you find time for it to happen.
Grab one of our free downloads below to help you get started:
When your student turns 18 years old, the laws shift as well. Here is the key difference:
K- 12 – IDEA (Individuals with Disabilities Education Act) Provides for Free and Appropriate Education (FAPE) for children ages 3-21 (through HS graduation). FAPE is defined as "specially designed instruction at no cost to the parents, to meet the unique needs of the child with a disability." States are required by law to ensure "full educational opportunity."
Post-HS – ADA (Americans with Disabilities Act): Prohibits discrimination because of disability. Along with Section 504 of the Rehabilitation Act of 1973, the ADA requires reasonable modifications to policies, practices, and procedures for eligible individuals with disabilities.
These nuanced differences can get confusing. This comprehensive comparison from the Independent Educational Consultants Association can help break down the differences. 
JAN, the Job Accommodation Network, is an excellent resources to learn more about resonable accommodations for your young adult.
If you've made it here, well done! You've just gotten a great overview of the key topics think about for your autistic high schooler. But we know it can be overwhelming. You don't need to tackle all of these conversations and decisions at one time. In fact, it's best to focus on small, consistent changes over time. Here's a simple roadmap to help you get organized.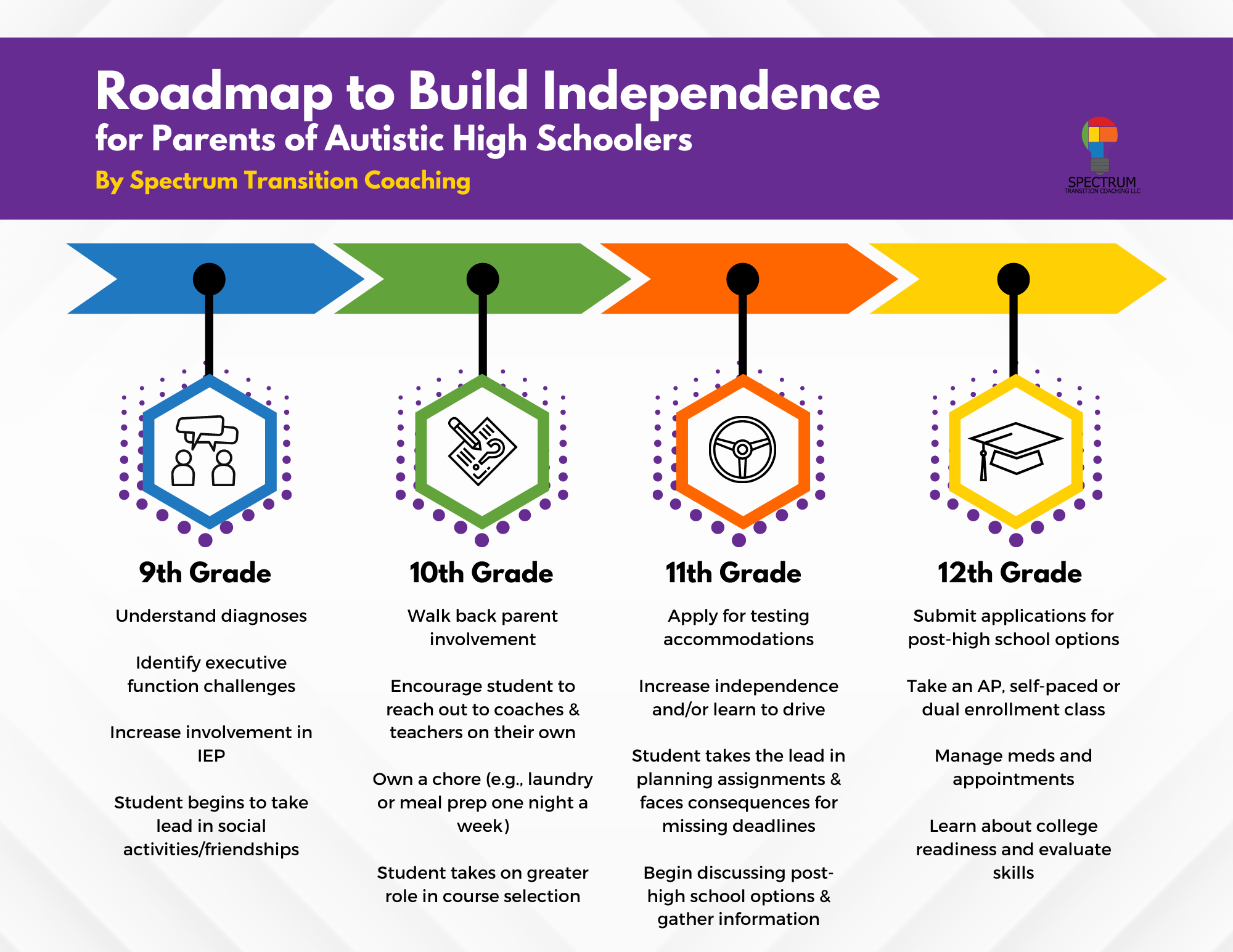 College Readiness Resources
Autistic high school students face significant decisions about the next steps of their life. These decisions are rightfully daunting. It feels like they are major commitments and the wrong move might harm your autistic student. There is not magic ball to help you decide, but you can take comfort that few decisions are permanent and you can always course correct if your student needs a new path.
Life after high school can take many paths. In addition to 4 year colleges, you can explore 2 year college programs, community colleges, vocational programs, college readiness experiences, work, volunteering and travel.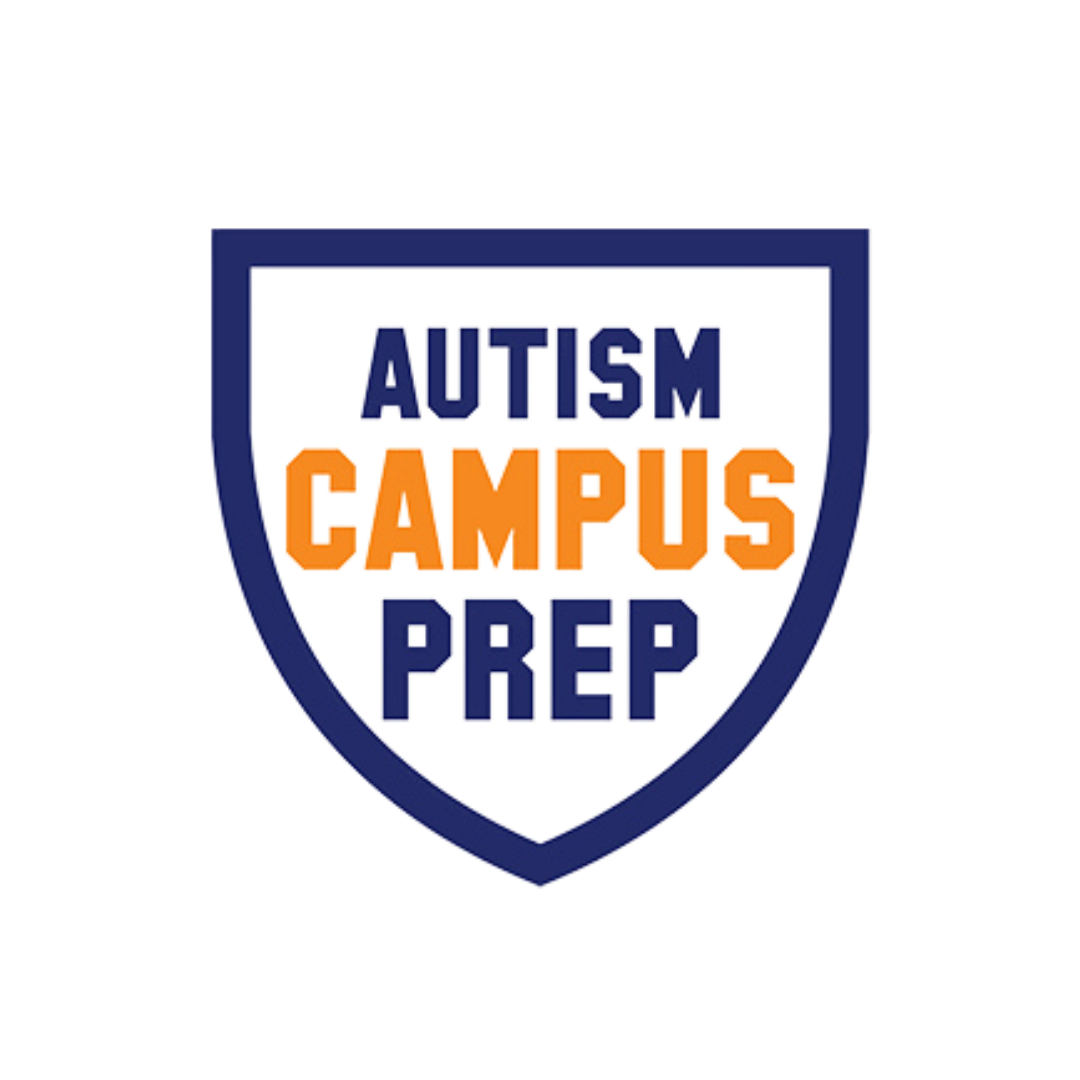 Autism Campus Prep (ACP) is a free online post-secondary preparedness course written by and for individuals on the autism spectrum together with The Sinneave Family Foundation.
ACP is a resource for individuals on the spectrum who are looking to enroll in post-secondary, and would like a better understanding of the academic and non-academic challenges they may encounter and how to plan for life after graduation.

AANE works with individuals, families, and professionals to help people with Asperger Syndrome and similar autism-spectrum profiles build meaningful, connected lives.

The Mid-Atlantic ADA Center provides information, guidance, and training on the Americans with Disabilities Act (ADA), tailored to meet the needs of businesses, government entities, organizations, and individuals in the Mid-Atlantic Region (DC, DE, MD, PA, VA, and WV).
About Spectrum Transition Coaching
Helping families of autistic young adults navigate college, career, and life transitions
"Beth is wonderful. She really helped push some of the more difficult conversations between me and my son as he gets ready to leave the nest. Beth met both of us where we were, and are, in this process, and did so in the kindest and least judgmental way. She sees autism as a fact, not a disability, and her practical advice and encouragement will go far. Highly recommend!"
–

Cece, parent of autistic young adult
or sign up below to get a free guide to navigating school or work with autism.