The Ultimate Guide for Parents of Autistic College Students
By Spectrum Transition Coaching
Helping families and young adults navigate life with autism
College is an exciting and important phase of an autistic student's life. Full of possibility, the college experience can broaden your student's horizon in meaningful ways. It's also their first taste of independence and adulthood.
For some autistic students, college is a time of self discovery. These students embrace the challenges of their new adventure and find new friends, new interests and new potential.
For others, college can be a time of instability. The unfamiliar environment and lack of supports can be difficult to manage, resulting in a negative or short-lived college experience.
Whichever path your autistic student ends up on, you're in the right place.  We've compiled the best resources, blog posts and guides to help your family navigate the collegiate years.
Who We Are and What's Inside
Spectrum Transition Coaching
prepares autistic young adults for success in college, career, and life. With a variety of
coaching packages
to fit your needs and timeline, we work closely with families to help them navigate life's transitions. From getting ready for college to building independence or finding a good fit job, Spectrum Transition Coaching supports autism families just like yours.
We've read piles of books on autism and parenting to narrow down the most useful for your family.
Useful prompts to connect with your young adult as your relationship evolves.
Job boards and resources for neurodivergent college students looking for internships or full-time work.
Whether your student is thriving or struggling in college, you're not alone.
There are so many paths after high school graduation – 2 year college, 4 year college, community college, working, volunteering or a gap year. You'll find the right direction that fits your student's needs, interests and personality.
"With the right preparation and supports, college can be an incredible time of growth and exploration as autistic students become more independent from their parents and more connected to their peers."
– Coach Beth
What if college isn't right for my student? Or we tried it and it didn't go well?
Not going to college right away does not mean never going to college. Your student's life may take twists, turns and detours as part of their journey to adulthood. It can all be a part of the process as they progress from child to adult.
If your student isn't going to college now
The time after high school can be a great time to work on skill development so that your student can be successful in college down the road. Use this time to build life skills by:
– Learning to drive. This is a key aspect of independence and there are some incredible resources to help your student gain confidence and master this skill. This guide from the Children's Hospital of Philadelphia is a great place to start. 
– Managing courses independently. Community college can be a great first step. You student doesn't need to be enrolled full time to take a class at a community college. Select a course or two that aligns with their interests. If your student dreads math, this is not a time for calculus. Instead, select ceramics, nutrition, photography or computer science to fit their interests.
– Volunteering: Spending time with a volunteering organization is a great way for your student to gain real world experience, build references for future work and explore a passion. Learn more here. 
Perhaps the most important consideration in this phase is your own emotional reaction as a parent. When your friends' kids are going off to colleges and universities, it is tempting to feel like you came up short. Don't fall into that trap. This is not a reflection on you as a parent. Our children's lives develop in ways that we can not predit nor control. The best thing you can do is share your student's plans with confidence to avoid introducing any shame into this life transition.
If your student's time at college isn't going well
One of the hardest parts of being a parent is knowing when to let your child fail and when to swoop in and help. 
From my years of coaching autistic young adults, I've learned that it is very hard for neurodivergent young adults to 'push through' tough times. If you are hearing that your child is spending all day in their room, can't get out of bed, or has fallen significantly behind in all of their classes, that is a warning sign they may need a break.
First, make sure your student is in a safe place. That may mean you get in the car to see them on campus or they come home for a while. 
Second, learn about your options. Many colleges now offer medical leave for mental health challenges which may give your student some breathing room. Explore your options beyond push through or drop out. 
Third, make a plan for the next semester. Work with your student to make a plan whether that is taking time off, returning with more supports in place or another path. If you are struggling to work through this together, this can be a great time for a parent consultation or a targeted coaching package.
Grab one of our free downloads below to help you communicate with your college student. As children mature and gain independence, our parental role shifts as well. Find your footing in this new phase with frequent, open communication.
Top blog posts for parents of autistic college students
Parenting college students is a balancing act. We want to give our students more independence, especially if they are living away from home. But we also want them to know that we are always in their corner if they need us. Here's our top blogs about the college years. Subscribe to the blog here.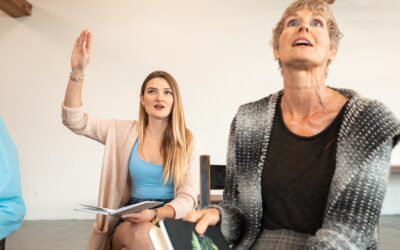 Strengths and support needs of autism Let's continue our discussion on the duality of autism. With my clients, I often talk about how autism brings incredible gifts and superpowers that create your unique personality - there is no one in the world exactly like you! On...
read more
Employment Preparation Timeline
For students who are thriving in college, it's never too early to start thinking about what comes after graduation. Whether that is grad school, employment or another path, encourage your student to make connections so they have opportunities to choose from after senior year.
For autistic college students looking at full-time employment, this roadmap can help you prioritize what to focus on each year.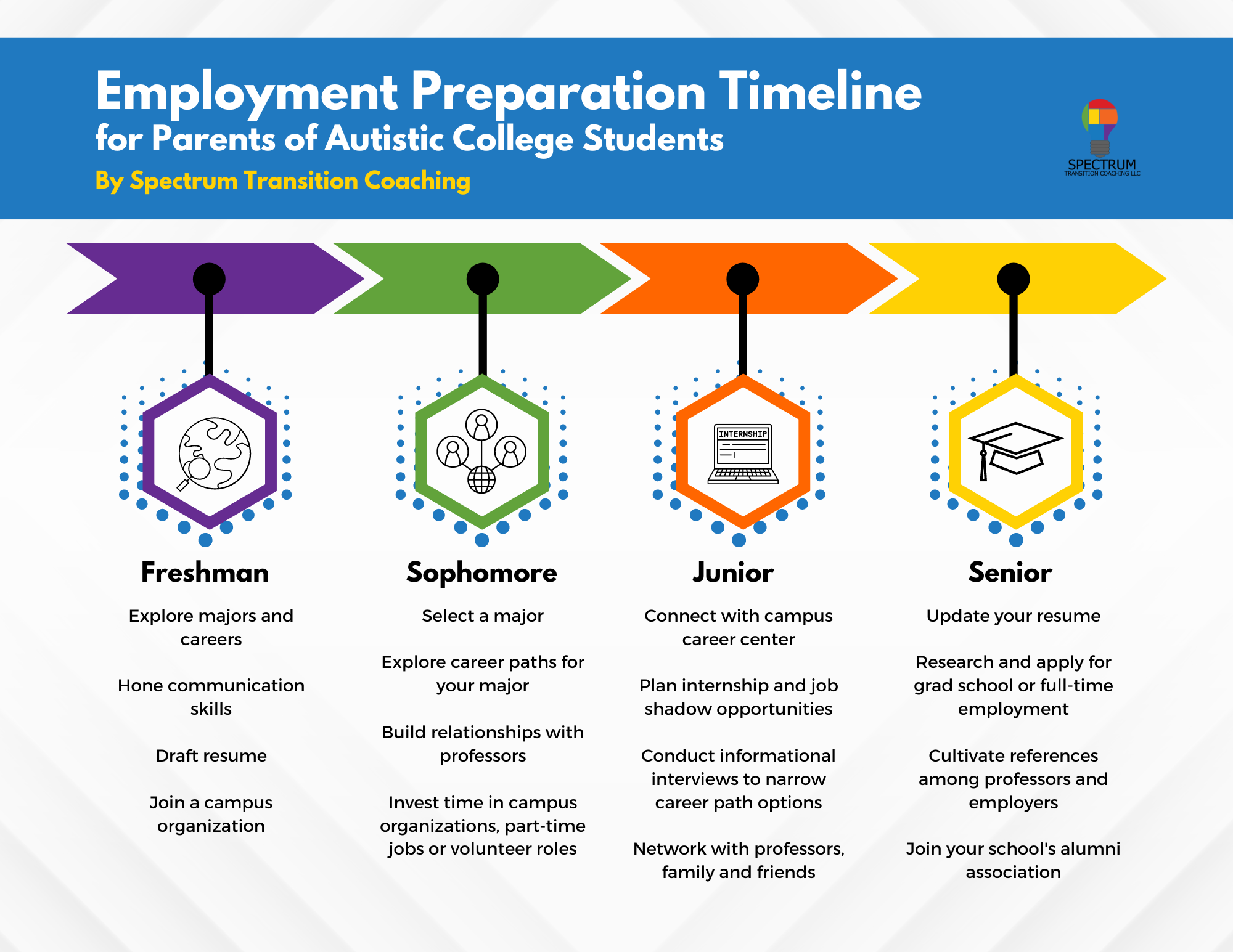 Autistic students face significant decisions about the next steps of their life. These decisions are rightfully daunting. It feels like they are major commitments and the wrong move might harm your autistic student. There is no magic ball to help you decide, but you can take comfort that few decisions are permanent and you can always course correct if your student needs a new direction. Life after high school can take many paths to building a fulfilling and purposeful life. 

With a goal to improve employment of neurodivergent individuals, Neurodiversity Hub is a great place to start looking for a job or programs to support neurodivergent job seekers. 

The Neurodiversity @ Work Rountable is my favorite initiative of
Disability: IN. 
With job postings and neurdivergent hiring programs, you can find jobs at major companies like Ford, EY, Deloitte and Google as well as neurdovergent-focused companies like Blue Star Recyclers, Good Foot Delivery and Moji Coffee. 

JAN
is an excellent resource to learn more about available accommodations that your employer needs to support in order to allow you to be successful in your role as part of the Americans with Disabilites Act.
For college students exploring potential career paths, My Next Move has a variety of information and assessments to help you discover fulfilling career paths. 
About Spectrum Transition Coaching
Helping families of autistic young adults navigate college, career, and life transitions
"Beth is wonderful. She really helped push some of the more difficult conversations between me and my son as he gets ready to leave the nest. Beth met both of us where we were, and are, in this process, and did so in the kindest and least judgmental way. She sees autism as a fact, not a disability, and her practical advice and encouragement will go far. Highly recommend!"
– Cece, parent of autistic young adult
or sign up below to get a free guide to navigating school or work with autism.